With its rolling countryside, fantastic food, and medieval hilltop towns, Italy's region of Umbria is impossible not to fall in love with. What some visitors to Italy struggle with, though, is how to get there—and how to move around within Umbria once they've arrived.
Why is this tricky? Well, we're always proponents of taking trains in Italy, but at first glance, Umbria can be a little tough. That's because, first of all, most of the towns aren't directly connected to big cities like Florence or Rome, meaning you have to switch trains once or twice to get to your destination. And secondly, medieval hilltop towns means no train station in the town—instead, stations tend to be a drive away.
(Nota bene: Yes, you could rent a car and drive. But for reasons we'll explain further in a future post, we don't always recommend this. Briefly: The Italian road and signage systems are different from back home, sometimes surprisingly so; there is a different [and, for foreigners, often scarier] driving etiquette, particularly on highways and in cities; and it can be very, very easy to get lost, especially on back roads and the countryside. For more on why you might want to think twice about renting a car in Italy, check out this hilarious account of what it can be like!)
But guess what? Despite the apparent transport hurdles, it's easier to get around Umbria than you might think! On our last trip to Umbria, we were surprised at how well-connected the towns are. We were also surprised at how beautiful the rides were! Both the Umbrian regional train and the buses took us past gorgeous farms, vineyards, forests, and hills.
Most information on how to take Umbria's trains and buses is in Italian, however. And that's where we come in. Want to get around Umbria and visit its loveliest small towns, without a car? Here's how.
Step one: Figure out which trains connect towns in Umbria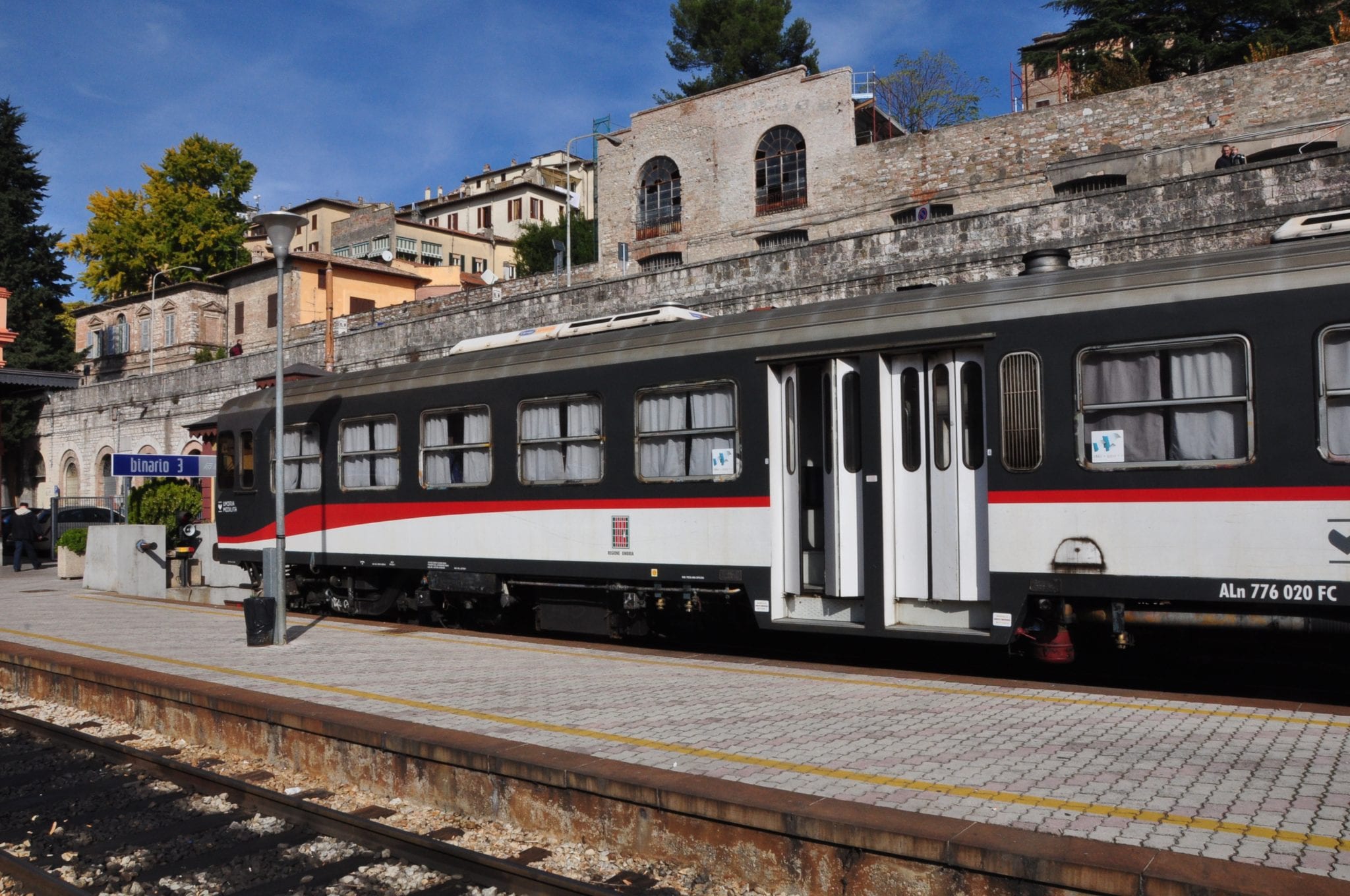 This can be a little confusing. Most people are used to using the official Trenitalia site to look up trains. While the Trenitalia site shows you the stops on the national rail service, though, it actually doesn't include some regional lines, like the one in Umbria.
For that, go to this map of Umbria's regional and national trains. The blue line represents the regional line; the black, the national line. On the left, "direzione Firenze" and "direzione Siena" mean those cities are in that direction. Same, of course, for "direzione Roma" on the bottom. That means that if you're at any of those hubs, it's fairly easy to hop on over to Umbria, and then switch to the regional rain.
Even on the black line, you've got lots of options. We especially love Narni, Spoleto, Spello, Trevi, and Assisi.
Once you've switched to the regional train, meanwhile, you can see that you can get off at even more towns in Umbria, some of them destinations in their own right, like Citta del Castello, Todi, and Perugia.
Step two: Check out the timetables for trains in Umbria
For the Trenitalia trains (black line), just go to www.trenitalia.it and enter your departure, destination, and date. For the regional trains (blue line), on the same map from above, just click on the town name you want to go to. A PDF will pop up with the complete schedule. Scroll down to the page with the name of the town you want to go to, and it's all right there.
Step three: Figure out if the train station's actually near the town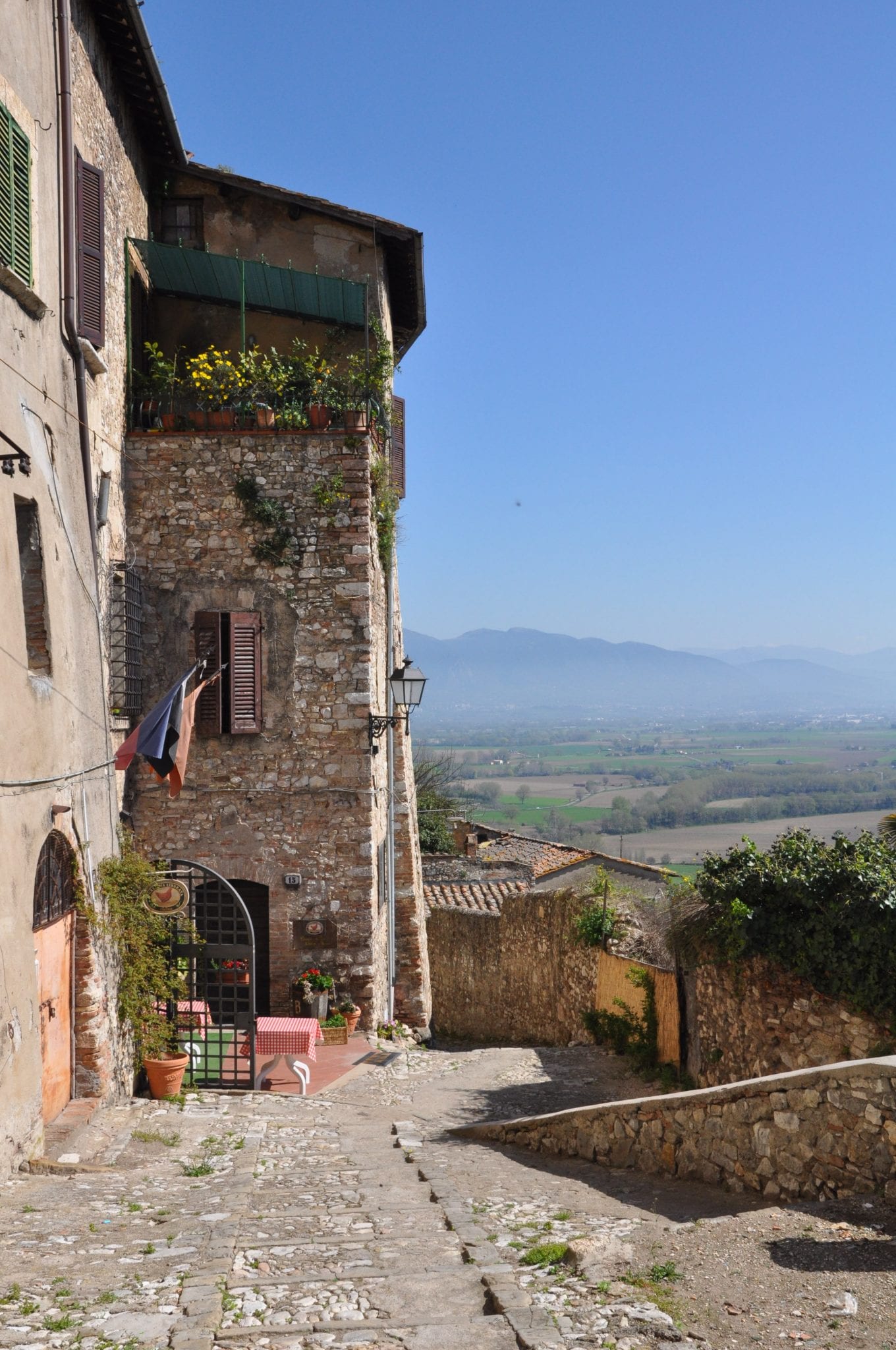 Often, it's not. But that's okay. Buses regularly run from the stations to the towns, roughly corresponding with incoming trains. (They run less often, as do the trains, on Sundays and holidays).
Here's how to find your bus: Either wait until you're at the station and ask… or, if you want to make sure everything's planned, go to this map of Umbria's towns. Click on the town you want to get into. A PDF will pop up with all of the local transport (i.e., bus) options.
Skim the schedules for the little blue symbol of a train on tracks; that's your train station. Read across to see all of the pick-up times (although be aware that we've found that, in practice, these aren't usually exactly followed), and skim down to see the drop-off times. Generally, we don't worry too much about exactly which stop is the one in the center—with medieval hilltop towns, you can tell when you're close!
Step four: Check the buses between Umbrian towns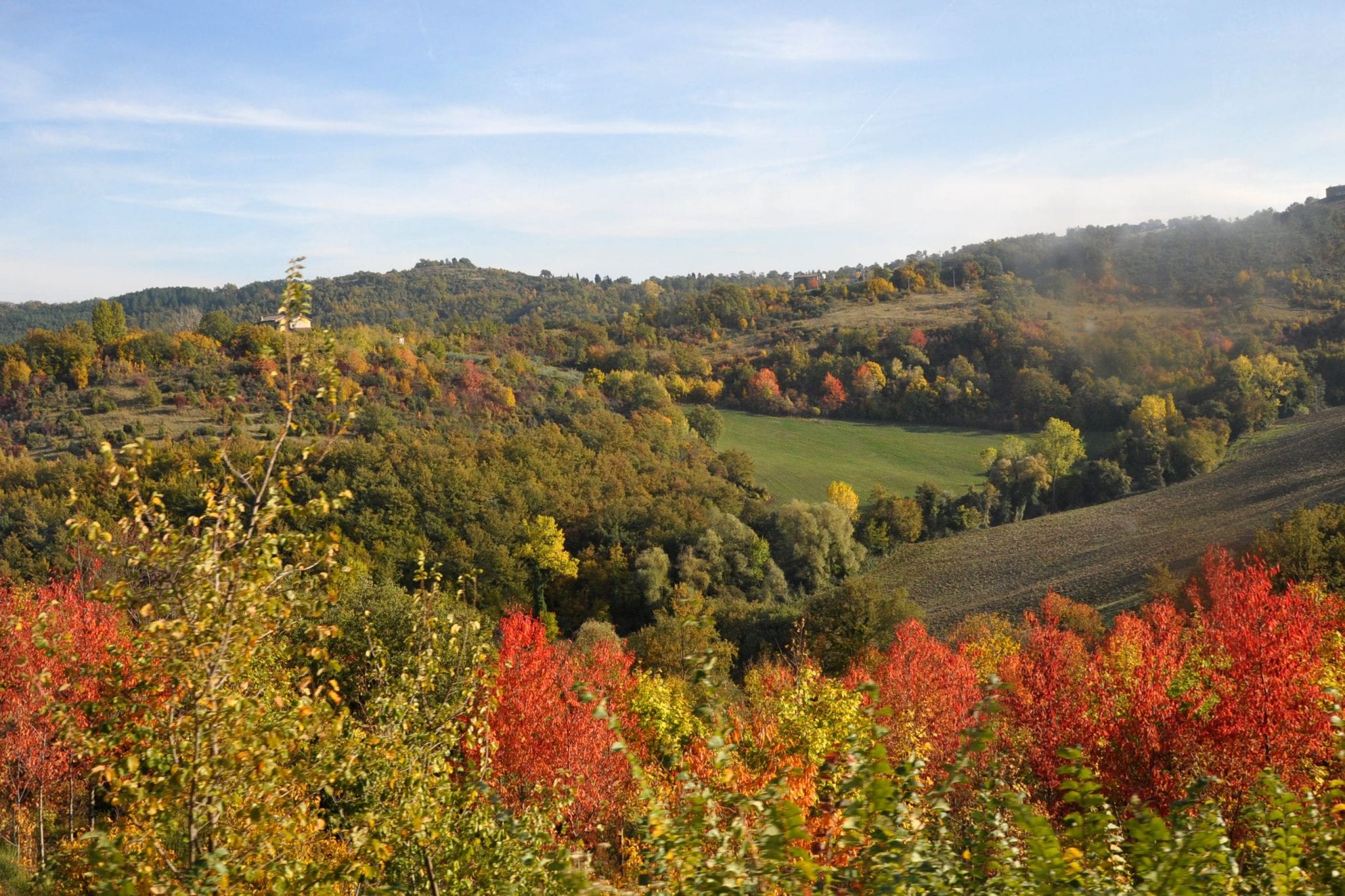 Not all towns in Umbria have train stations. And even those that do might have a faster connection—even from, say, Rome—by bus. So it's worth looking into bus schedules.
Sulga Autolinee connects cities, including Rome, Florence, Naples and Milan, with a number of Umbrian towns, like lovely Gubbio, Todi, and Assisi. For most other bus lines, go here. Click on the town you want to get to, and you'll be shown even more options for getting there.
Putting it in action: Rome to Todi
For the sake of examples, let's say I want to get to Todi (a lovely town!) from Rome.
The first thing I'd do is see what trains can get me there. By looking at this same, super-useful map, I can see that (great!) there's a Trenitalia train that goes from Rome to Terni, and then I can hop on a regional train from Terni to Todi.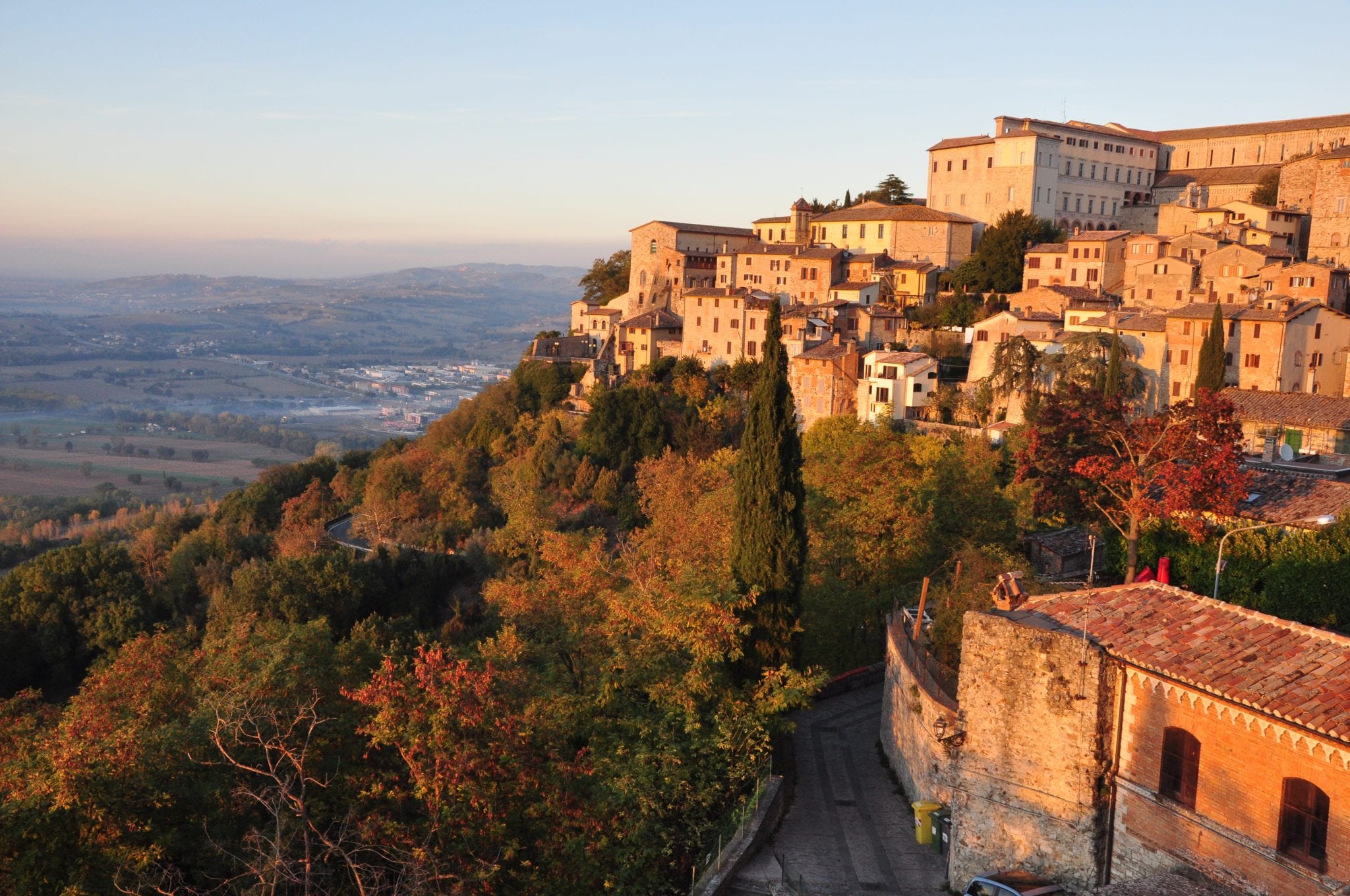 Next, I go to Trenitalia's site and see when the Rome to Terni trains leave and arrive. Let's say I want to take the 9:50am train from Roma Termini; I'll get into Terni at 10:39am. With my arrival time in mind, I click on "Todi" for the PDF of the schedule. I scroll down until I find, on page 13, the Terni -> Todi -> Perugia schedule, and look down the times to see when a train leaves from Terni. (They make this even easier for you by, at the top, having a section called "Coincidenze da," meaning the trains coming from big cities that the other trains correspond with). The train from Terni onto Todi that leaves at 11:10am is perfect. There are a couple of stops in Todi, so I do a quick Google search to see which is the main station; it's Todi Ponte Rio, and the train arrives there at 11:53am. Great!
Now, though, I have to figure out how I get from Todi's station into Todi's center. I can call a taxi when I get there, but I want to see if I can take a local bus. Luckily, the Umbria transport website makes this easy, too. I click on "Servizi Urbani," which brings me to this map. Then, I simply click on "Todi." When the PDF of bus schedules pops up, I scroll down until I find the little train-station symbol, for "Staz.Todi". The bus comes at 12:17pm, giving me some time to relax.
Still, that means that the whole trip will take about 2.5 hours. Not terrible, but I wonder if I can get there faster.
So, first, I check out inter-town bus lines on the same Umbria site. Buses listed here run from Todi to lots of other hubs, including Perugia and Assisi, but not Rome. So then I check the Sulga bus site. Success! "Citta di Castello – Todi – Rome" shows up on the front page. I click on "Orario Completo," next to it, to make sure I can see everything. In the resulting PDF, on page 8, I see that I can take a bus from Rome's Stazione Tiburtina at 4pm and arrive to Todi at 6pm. It's definitely faster, and gets me right from Rome to the center of Todi without having to change lines—but, of course, I have to decide if arriving in the evening is okay.
Have any questions about travel in Umbria, or anywhere else in Italy? Let us know in the comments!
You might also like:
The Best Foods to Eat in Umbria and Tuscany
How to Take a Gondola in Venice
In Autumn, Truffle Festivals Take Over Italy