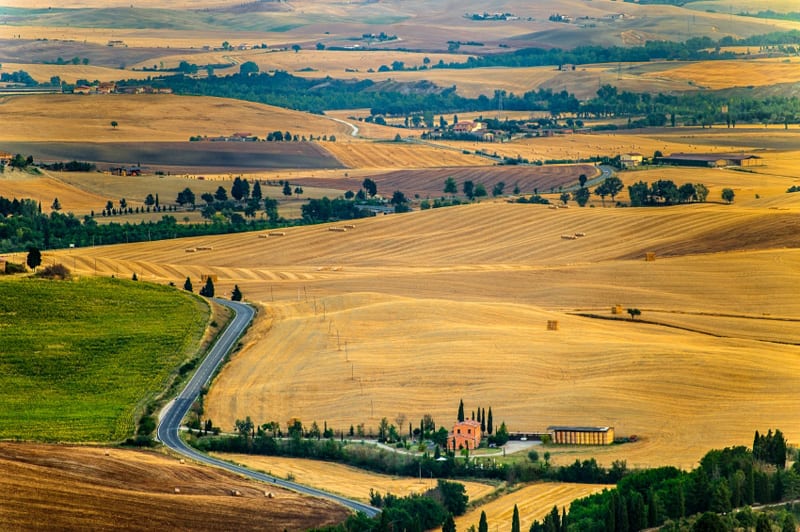 It comes as no surprise that the high profile historic centers of Rome and Florence are designated UNESCO World Heritage Sites in Central Italy along with renowned places such as the stunning Val d'Orcia in Tuscany. However, here are 7 more remarkable sites in Central Italy, many of which are off the beaten path.
Urbino, Le Marche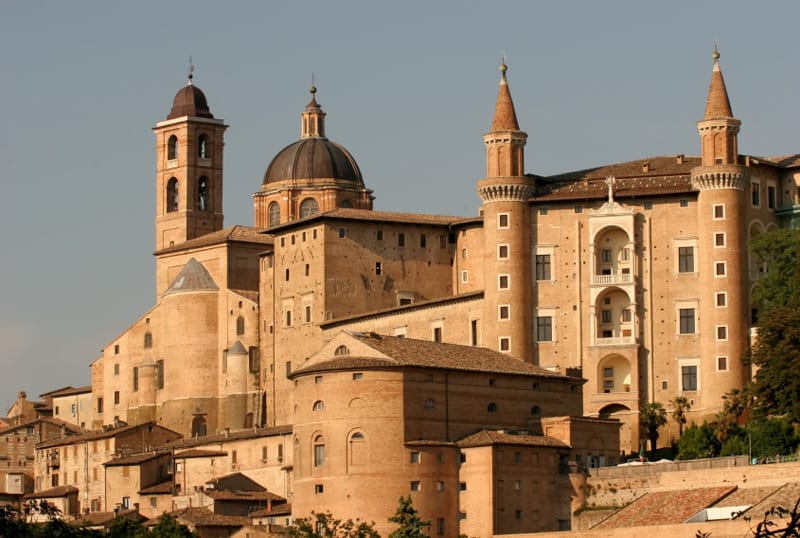 Set high on a sloping hillside, Urbino still retains much of its Renaissance flair. Its medieval walls surrounding a terracotta colored town, with towers and the large cupola of the town's Duomo creates a picturesque panorama.
Once inside this well-preserved hill town, Urbino's winding roads and steep stairways still suggest the town's longstanding tradition as an intellectual and artistic center. This town was a small but significant literary and artistic center during the Renaissance, centered on the court of Federico da Montefeltro (1422–1482). The fame of Urbino always leads back to this remarkable man, a mercenary general who ruled as Duke of Montefeltro from 1444–1482 and who brought the Renaissance to his small town.
Basilica of San Salvatore, Spoleto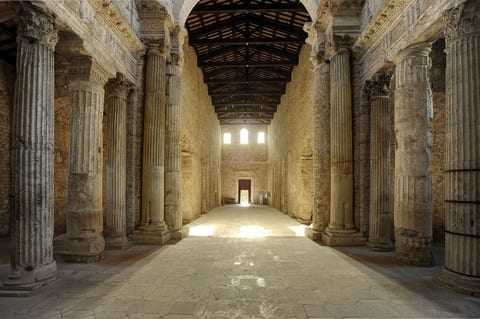 One of the seven monuments listed in Longobards in Italy. Places of the power (568-774 A.D.) by UNESCO in 2011, the Basilica of San Salvatore is certainly off the beaten path. Located outside the town of Spoleto, the striking Basilica dates back to the 4th century. What you will find evident here, both in the façade and interior, is the re-use of materials from earlier buildings.
In the upper section of the façade, the three windows are decorated with Classical elements while inside the Basilica, you'll find Corinthian columns in the presbytery supporting the dome. Though the inside is bare, there are fascinating frescoes with the earliest from the 8th century of a jeweled cross with gem stones hanging from the arms.
Assisi, Umbria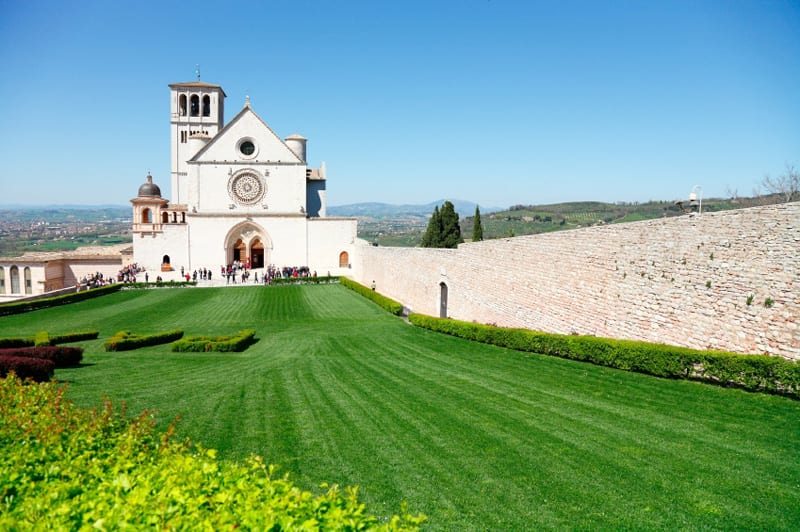 When Assisi is mentioned, it is often associated with St. Francis, the patron saint of Italy born in this town in 1182. Pilgrims flock here to pay their homage to St. Francis and with its well preserved historic center, Assisi is one of the most popular places in Umbria.
Approaching Assisi, the impressive Basilica of St. Francis is prominent and gives you a sense of the mystic charm you will find here. The Basilica, where the remains of St. Francis are kept, was built in 1228 and consists of two connected churches. While the lower church is dimly lit, the upper church with the light streaming through the decorated windows is brilliant. The interior has stunning frescoes by Cimabue, Giotto and Pietro Lorenzetti and the most notable are the frescoes depicting the important scenes of the life of  St. Francis by Giotto.
Villa d'Este, Tivoli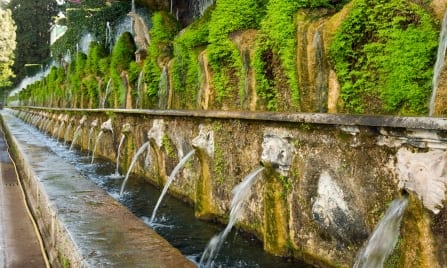 Located just outside Rome in the hilltop town on Tivoli, Villa d'Este was commissioned in 1550 by Cardinal Ippolito II d'Este after his failed bid for the papacy. The son of the famous Lucrezia Borgia, he felt the residence that he'd been assigned was inadequate and wanted a more extravagant place.
Thanks to the work of the architect Pirro Ligorio, Villa d'Este is one of Italy's most splendid villas. The gardens are amazingly stunning and the collection of fountains makes this place astounding. There are several notable fountains such as the Organ and Neptune fountains and the Avenue of the Hundred Fountains. The latter, as you can guess from its name, has 100 fountains on three levels in various shapes such as lilies, eagles and obelisk which are also seen on the coat of arms of the Este family.
Tarquinia and Cerveteri Necropolises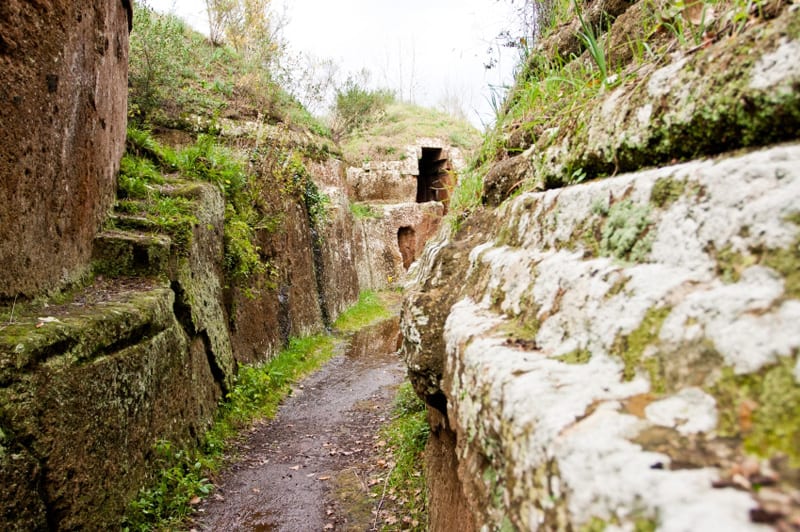 These two vast necropolises in the Lazio region, north-west of Rome are described by UNESCO as "a unique and exceptional testimony to the ancient Etruscan civilization, the only urban civilization in pre-Roman Italy".
The Monterozzi necropolis in Tarquinia has over 6000 tombs cut in rocks. Even more intriguing are the painted tombs that provide insights as to customs and life of the Etruscan people. Unfortunately, though over a hundred of painted tombs were discovered, only a few can be visited.
In Cerveteri, the Banditaccia necropolis is set-up like a city which is why it is appropriately called "the city of the dead". With a main street and several side streets, tombs are lined alongside including the impressive tumuli, round burial mounds which are often made up of several rooms. Although this necropolis covers 400 hectares (over 700 football fields!), only a small section is open to visitors.
San Gimignano, Tuscany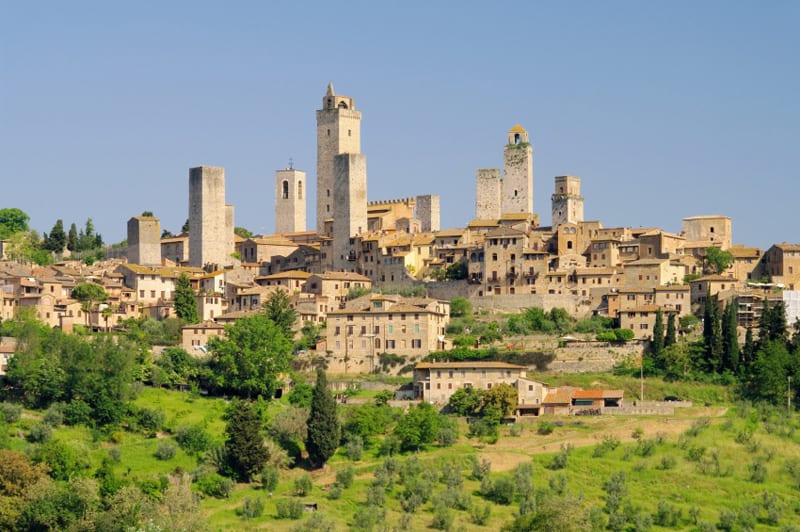 Situated on a hill, San Gimignano in the Elsa Valley is an impressive sight with its famous towers dating back to the 11th and 13th centuries. During this period, the town prospered thanks to its location along Via Francigena, a pilgrimage route from Rome to Canterbury and as a display of their wealth and power, the aristocratic families built these towers. Though there are only 14 towers remaining, imagine how dominating this place appears with over 70 towers!
An easy day trip from Florence, which is only 35 miles away, the town is a popular destination and if you are looking to avoid the crowds, the best time to visit would be in winter.
Pienza, Tuscany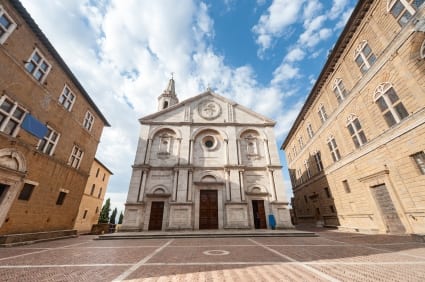 Considered the ideal Renaissance town, it was recognized as a UNESCO World Heritage Site in 1996. Some of the most notable attractions in Pienza are found in the main piazza, Piazza Pio II. They include the spectacular cathedral built by Bernardo Rossellino in 1459 with a Renaissance facade while featuring elements of Gothic architecture such as rib vaults in the interior.
Another impressive site is the Piccolomini Palace where the movie Romeo and Juliet by Franco Zefferelli was filmed. From the loggia, you are treated to breath-taking views of Val d'Orcia which also happens to be a World Heritage Site.
Fascinating? Then also check out the post on 7 UNESCO World Heritage in Northern Italy!