Once a bustling, blue collar port town, Pompeii's fate was sealed with the eruption of Mount Vesuvius in 7.9 A.D. Today, Pompeii is a UNESCO World Heritage site, one of the most visited sites in Italy and one of the most visited archaeological sites in all the world. The best possible way to see what life in ancient Rome was like, plan ahead with our easy guide to get the most out of your visit to Pompeii. 
How to Get There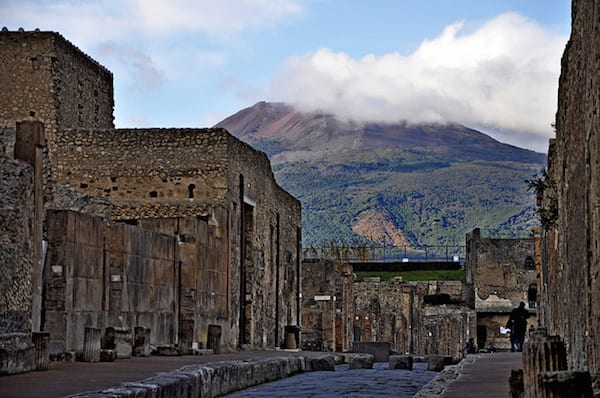 Pompeii is a major stop and easy to reach from the major surrounding cities by train, car or even bus. Travel time by road (without traffic – which is rare on these roads) is around 2.5 hours from Rome to Pompeii, 30 mins from Naples to Pompeii, 45 minutes from Sorrento to Pompeii and 4.5 hours from Florence to  Pompeii (which pretty much rules it out as a day trip from Florence).
If you're planning on visiting Pompeii from Rome, perhaps the easiest option, is to book our Pompeii & Amalfi Day Trip from Rome, which includes a guided tour of Pompeii, a scenic drive along the Amalfi Coast and a stop in Positano. Independent travelers can book a transfer service, which is certainly the fastest option, although not the cheapest. The budget conscious will want to travel by train, which is largely easy to navigate and less expensive, although more time-consuming.
What to Bring
Unfortunately, the same attention is not lavished on visitor facilities. The site has only one restaurant-cum-cafeteria of dubious quality, and the maps – if you can get one from the information booth – are not up to date (you may have to backtrack where streets have been blocked off).
Remember, Pompeii was once an entire maritime city, and the current site is vast! Forty-four hectares that have been excavated, but not all are accessible. Unfortunately, the beautiful site isn't managed so well. There are often areas cordoned off with little explanation and rather poor signage. Your itinerary will be well-planned if you visit Pompeii with a tour guide, so you won't need to worry as much. If not, plan ahead and come prepared to ensure you have a successful trip.
You can go back in time by walking through the preserved streets of the city – by far the best way to view Pompeii. Though you could spend an entire day touring the site, the average time needed once inside is about two to three hours. Like most Roman-built cities, Pompeii is well organized with a clear street plan, but the modern-day signposts are often wrong. Though technically the information booth should have maps, you'll have to specifically ask for one and hope that it's been updated. Better to come ahead with a current map. Touring Pompeii is not difficult, but in order not to waste time or bake unnecessarily under the Neapolitan sun, those traveling solo might want to consider bringing a guidebook as well.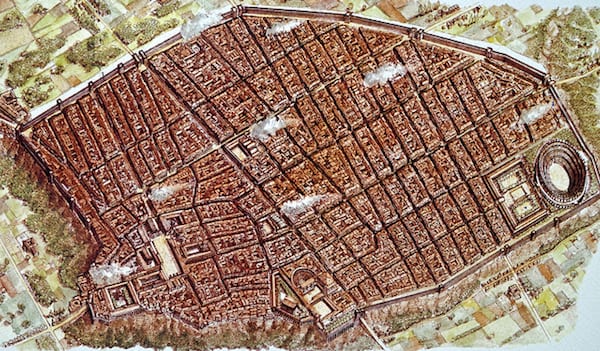 Bring hats and sunscreen no matter what season and you may even want umbrellas in the summer. There is very little shelter from the sun and two to three hours outside will leave you feeling more like the ashen city than your healthy self. You'll also want snacks and plenty of water for all that walking. Inside there is only one small convenience stand with slim offerings and unreliable hours of operation, but there are water fountains throughout the site that you can use to refill your water bottles. 
Pompeii Tickets
You can also tour bakeries, small family restaurants, ancient roman homes and even a local brothel, where you can find "Umberto was here" style graffiti on the walls and lively life-sized frescos that served as a sort of ancient-day advertisements. On the other end of the social class spectrum is the House of the Vetti, the home of a wealthy merchant and one of the best preserved homes. Though recently closed for renovations, if it's open you can view the typical villa of ancient Pompeii's richest citizens, including extravagant rooms covered in frescoes and an inner courtyard with small fish ponds.
Before you end your visit to Pompeii, take a last look at the impressive view of Mount Vesuvius in the distance. 2,000 years ago the still-active volcano erupted a cloud of gas, ash and rocks. For hours it spewed, causing most of the residents to flee. It took just one moment for the eruption to change and an avalanche of lava and rock to race down the mountainside toward Pompeii. Though Vesuvius destroyed the city, it also effectively preserved it, stopping life in Pompeii in its track and providing us with most everything we know about the ancient town.